Welcome to Moselcampingplatz Pünderich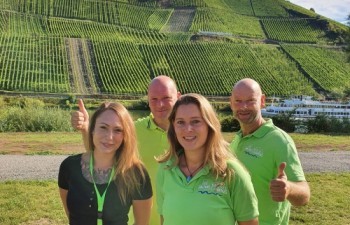 Moselcampingplatz Pünderich, located directly on the Moselle in a quiet location with a wonderful view of the Marienburg.
Biking and hiking trails start next to the campsite and lead you through picturesque villages along the beautiful Moselle. Are you looking for a quiet, smaller campsite on the Moselle, family-run in the middle of a fantastic hiking and cycling area? Then you've come to the right place! Surrounded by the river and vineyards, the location of Pünderich is very central and therefore ideally suited to visit well-known places and cities such as Cochem, Bad Bertrich, Zell, Traben-Trarbach, Koblenz or Trier. The Moselle camping site Pünderich is a real "insider tip" on the Moselle.
The Marienburg is located above the campsite, where you can enjoy a great view of the valley from the terrace. For young people there is the adventure pool in Zell, the climbing park in Traben-Trarbach or the Moselle, which challenges you to go canoeing. In the evening you can visit various restaurants or taverns, enjoy a local beer or one of the many Moselle wines.
Moselle…. Pure relaxation!