Welcome to Mosel-Camping Alf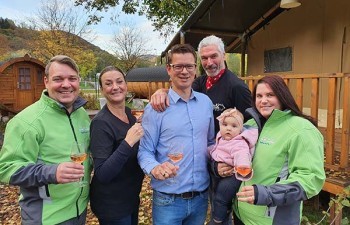 Mosel Camping Alf, located directly on the Alfbach and only 500 meters from the Mosel.
Cycling and hiking trails start next to the campsite and take you through picturesque villages along the beautiful Mosel. Are you looking for a Naturclose campsite on the Mosel, families friendly and with reasonable prices, then you are exactly right with us! Surrounded by the river, forest and vineyards, the location of Alf is very central and therefore ideally suited to visit well-known places and cities like Cochem, Bad Bertrich, Zell, Traben-Trarbach, Koblenz or Trier. The Mosel campsite Alf will be upgraded to a 4-star campsite in the coming year. The first part our new Moselle campsite Alf is finished. Most parts of the campsite are ready, the last building part will be starting in october 2019.
Above the campsite is the Arras Castle, where you get a great view of the valley from the terrace. Recharge your batteries and visit the Vulkantherme in the neighboring town of Bad Bertrich or the adventure pool in Cochem or Zell for young people. In the evening you can visit various restaurants, enjoy a local beer or one of the many Moselle wines.
Mosel…. Pure relaxation!